Shalom KHALED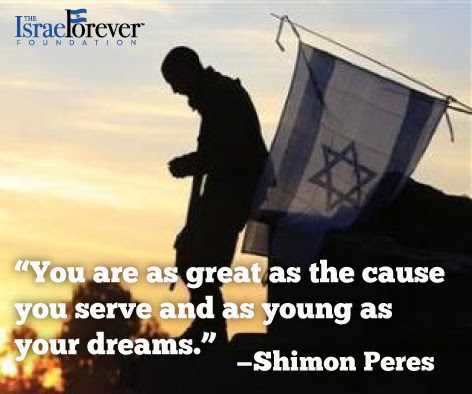 Thank you for sharing your seeds of inspiration!
A member of our team will be in touch with you if we need further information.
Over the next few weeks we too will share and celebrate people that inspire us, the growth of Israel and the future of the Jewish Homeland.
To learn about our other Tu B'Shevat activities, click HERE.
To download our free Tu B'Shevat Seder, click HERE.
To learn more about Israel Forever and our inspirational work, click HERE.
Thanks and Israel Forever,
Elana Yael Heideman, Ph.D.
Executive Director, The Israel Forever Foundation
Thank You
To our many partners, clients, and supporters,
On behalf of SelectUSA, I would like to thank you for your partnership.
As I prepare to step away from my role on January 20th, I cannot help reflecting on the tremendous work we've accomplished together.  Under the current administration, FDI stock in the United States has increased by 53 percent, and I'm honored to have had the chance to work alongside you to promote vital investment into the United States – investment that truly makes a difference in our communities and businesses.
My three years at SelectUSA have included some of the most rewarding times of my career.
Investment promotion is a highly collaborative endeavor – and without your support, SelectUSA would never have made it this far.
To our investment clients: Thank you for your continued confidence in our team, and in the U.S. market. Know that this confidence is not misplaced, and that I strongly believe that there are more opportunities for success than ever before. And the SelectUSA team is here to help.
To our economic development organization friends: Thank you for everything you do – indeed, I would be remiss if I did not note that you are one of the main reasons why the SelectUSA program exists today.  I am continually humbled by your efforts, proud of your achievements, and honored to have played even a small role in supporting your mission.
While moving on is always bittersweet, I am proud to leave behind a talented and dedicated staff, and an organization that has never been stronger.
Thank you again, and all the best!
Vinai
Connect with us!
À l'origine en anglais
vendredi 6 janvier 2017 15:43
À : sg@ipa-usa.org; Khaled Menchaoui
Objet : Rapport of I.S.I.S CONCERNING THEIR PLANS AND FACTS
Waves of former failed young Tunisians in Baccalaureats encouraged to study baccalaureat to obtain it in Iraq or Syria so they turned into spiers into the account of Tunisian Authorities and some powerful Countries after obtaing the baccalaureat and before Arabic Spring they got as exrcutives in many places of tunisia authorities like ministary of justice or ministaey of interior or any others domain in politics or affairs so they contributed later with local travel tunisian agencies ot international after brain washes of islamophobia which never represent real Islam ..they plant those young unhappy desespered in life ;;they planted them in SYRIA-IRAQ AND MAJORITY ARE TUNISIAN ..IT IS A FRUIT OF THOSE NOWADAYS EXECUTIVES AND BUSINESS MEN IN TUNISIA WHO WERE IN MAJORITY FORMER BACCALAUREAT SPIERS IN SYRIA-IEAQ AND NO WONDER THAT THE MOST POWERFUL COUNTRIES HAD HAD FACILITATED TO MAKE OR TO PTODUCT I.S.I.S.  ESPECIALLY WITH THOSE EXECUTIVES FORMER SPIERS ..I ADVICE YOU TO LEARN POLTIC MUTATIONS IN TUNISIA AFTER ARABIC SPRING AND TO GET INFOTMATION OF THOSE EXECUTIVES AND BUSINESSMEN TO CUT OFF THIS SPIDER WHICH IS A CANCER FOR HUMAN-RIGHTS ..DANGERS FOR SAFETY AND DEVELOPMENTS IN ALL REGIONS OF THE WORLD ..
GOOD LUCK .
https://jesuschristreturnedblog.wordpress.com
https://lecomptechristo.blogspot.com
https://lecomptechristo-massie.blogspot.com
https://jesus-christkhaled.blogspot.com
Library of Congress Web Administrators <noreply@loc.gov>
Dec 28 (2 days ago)
to me
This Web Site Comments Form was submitted at Dec. 28, 2016, 11:33 a.m.
Thank you for your feedback about our website. Library of Congress.
Comment:
Hello!
Stay connected with U.S. Emnbassy Tunis in Tunisia Carthage..BECAUSE THEY TRY TO MAKE AMERICA FAIL TO INVEST IN SUBSAHARIAN AFRICA..THE TUNISIAN PRESIDENT IS INTENDING TO NOT REMAINING THE DEAL WITH OBAMA IN WHICH AMERICA IS A COALITION ENTRANCE WITH TUNISIA AS ITS POLE STRATEGY IN AFRICA BESIDES THE FUTURE OF INVESTMENT BETWEEN CHINA AND U.S. TOGETHER SIDE BY SIDE TO BULILD AFRICA WIN-WIN CHINA & U.S. ..FRANCE TUNISIAN PRESIDENT AND SOME EUROPEAN COUNTRIES COOPERATING AGAINST Mr. Trump for his Charisma but in order to put inversion in water in Africa..TOGETHER U.S. & CHINA REMAIN UNIT AGAINST EUROPE CHALLENGE OT ANY FOR PEACE ..HUMAN-RIGHYS & FREEDOM..READ THOSE TWO BLOGS AND OTHERS TO UNDERSTAND WELL : https://jesuschristreturnedblog.wordpress.com
https://lecomptechristo.blogspot.com
Cordially,
Khaled Menchaoui

<khaled.massie.menchaoui869@gmail.com>

31/12/2015
Shalom !
Thanks for your meaningful E-mail ..it having really touched my heart ..
I stand for the cause of Israel State and the geougous flag of it & its colour like clour of sky of God..
You will face some challenges because before Palestinian will be given a State as U.N. Decret of 1967..you have to preserving safety warrent for Israeli people & Jewsh in globe.
I had already advised you to making before & after normalization with Arabic world ..also to preserving your peace treaty ,deal & cooperation with modest ones like Egypt ,Jordany …you should also be trustful with your fidel ones as U.S. & Italy . but you have many challenges to cooperating with Arabic Maghreb .
In a world i trust your diplomacy with the world .
I didn't understand Mister Netanyahoo in past but i am inspired by him and his fighting for the cause of Israel ..
I also trust some Young ones in future like Tzipni Livni & Others.
My advice is to entering this century for business,prosperity ..markets and peace ..i am glad also of Mussad reforms which having done & your fight against terrorism & crimes.
Happy new year 2016 & Good Luck .
Curriculum Vitae o Name : MENCHAOUI o Forname : Khaled o Born : August 1st, 1965 in Tunis –Tunisia o Single o Address : Rue Ariana n° 41 Cité Ibn Khaldoun 2062 Tunis o Mobile phone number : +216 99824420 o Email : men.c.haoui@hotmail.fr Academic Record : o 2004-2005 : Bac + 3 As higher technician of management in Higher Institute of Tunis. o 1999-2000 : Equivalence of Baccalaureate in Economics and Management. Trainings : o 1993 : Training as accountant business in National Office of Professional Training in Bureau Activities in Gamarth. o 1996 : Business and Management in America-Amid east in Tunis o 1999 : Technical Approfondy of Accounting in PRONAFOC 99 in Tunis o 1999 : Internet and navigator in PRONA FOC 99 in Tunis. Experiences : o From 2005 : Financial accountant, control, contact financial and Public Institutions. Prepare balance sheet with computer
o 2001-2004 : Financial Accountant Work by collaboration with the Financial Director and prepare balance sheet and ratios and Bank reconciliation. Head Office : Claire Fontaine 17, Av. A. Lansari Menzah 6 o 1997-2001 : Accountant in an Auditing Office. Assist the Auditor in an Industrial Firm of Plastic , control debts of Banks and account payable and receivable Prepare balance sheet and control currency of import Address : 53, Rue Echcham – Tunis o 1994-1997 : Accountant in an auditing Office M and D associes Prepare balance sheet depreciation and Bank reconciliation of many kinds of firm activities fields, service and industrial Address : 37, rue Palestine – Tunis Computer : o Knowledge of some software for example : accounting software, ciel s
Computer : o Knowledge of some software for example : accounting software, ciel software… Word and Excel Language : Writing Talking Very good Good Average Less Very good Good Average Less Arabic X X French X X English X X Italian X X Russian X Fields of interest and hobbies : o Monitor in the organization of children
We need your support now, so we can be prepared for what 2017 has in store
Khaled —
Every day. Every season. Families need help.
Every 8 minutes, the American Red Cross responds to an emergency. From a home fire that leaves a family with nothing, to wildfires, floods and hurricanes that devastate entire communities, we go where we're needed, so people can have shelter, hot meals and counseling when they need it most.
Thanks to the generous support of Sunoco, all gifts today up to $100,000 will be matched. Because there's no one "season" for disaster relief, we need your support right now, as we prepare for what 2017 has in store. That's why I have to ask you, Khaled—can we count on your help?
Independent Women's Forum

via mail50.us4.mcsv.net 

4:15 PM (4 hours ago)

 
Happy Holidays KHALED!
We are thankful for all of our friends and supporters whose generosity throughout the year ensures IWF can continue to share its positive vision about women in America. Your financial and intellectual contributions are a critical part of our ability to create a network of friends, change the conversation, and advance sensible policies that willenable freedom and flexibility for all women in the workplace, the marketplace, and at home.
Wishing you and your family a safe and festive holiday filled with merriment, cheer and liberty.

6:38 PM (2 hours ago)
Khaled,
This has been an unforgettable year, one that has challenged us all in ways expected and unexpected. I am thankful for many things this year, but most of all I am thankful for you.
It is one of the great privileges of my life to serve you in Congress. I hope you have a peaceful holiday season surrounded by family and friends, and I look forward to working with you in the year ahead.

Yours,

Seth Moulton
P.S. I'd like to extend a special thank you to teen artist Tuyetlien Nguyen at RAW Art Works in Lynn for this card design. RAW Art Works is a non-profit serving 500 young people every week by inspiring creativity and instilling confidence in underserved youth through after school art programs.
World Trade Research Institute
When

Thursday December 8, 2016 from 8:00 AM to 9:00 AM PST

Where

Online

We thought you might be interested in a one-hour webinar presenting everything you need to know about Antidumping.

Whether you are an importer an exporter or domestic producer, you need to know the basic concepts and procedures of antidumping cases. This one-hour presentation with a representative from the U.S. Commerce Department will provide the information needed to help you know what to expect and how to participate in antidumping investigations.

This webinar is $50 to attend.

Please follow the link below to register..

The World Trade Research Institute strives to make international trade easier for all.

Please contact us with questions.

Sincerely,

WTRI